"THIS AMAZING HUSBAND AD WIFE ACT JOINS THE RANKS OF GEORGE AND GRACIE, LUCY AND DESI, AND LOUIS AND KEELY WITH THEIR SHOW THAT GLIMMERS WITH WIT, HUMOR, AND UNFORGETTABLE MUSIC."
-TIM EVANS, NORTHLIGHT THEATRE
HAPPY TOGETHER
MICHAEL & ANGELA INGERSOLL SING SONGS YOU KNOW BY HEART
Savor the music and laughter of yesteryear as irresistible man and wife duo Michael and Angela Ingersoll share the spotlight singing classic pop hits. He's the affable crooner from JERSEY BOYS (Broadway in Chicago, First National Tour) and the PBS retro-rock sensation Under the Streetlamp. She's "the actress with the astonishing voice" (Chicago Sun-Times) from The Second City Hollywood with scads of award-winning star turns (END OF THE RAINBOW, DISNEY'S BEAUTY AND THE BEAST). Together the playful pair woos audiences with all the candor and chemistry of a modern day George and Gracie. Their hilarious and heartwarming soiree features unforgettable favorites from artists such as The Beatles, The Drifters, Elvis Presley, Johnny Cash, Judy Garland, and many more. It's love in concert, live in concert.
DATE: MONDAY, OCTOBER 16, 2017
TIME: 7:30pm
VENUE: METROPOLIS
CITY:  ARLINGTON HEIGHTS, IL
TICKETS: 312-615-8300

RECENT SHOWS

DATE: October 16, 2017 7:30 pm




VENUE: Metropolis




LOCATION: Arlington Heights, IL



ANGELA INGERSOLL
Broadway World raves "her charm onstage is infectious… Ingersoll is brilliant." Angela Ingersoll is the recipient of numerous awards and nominations, recently garnering Chicago's Jeff Award Nomination, a Time Out Chicago Award Nomination, and "Top Performances of the Year" honors from both Chicago Tribune and Chicago Sun-Times for her star turn as Judy Garland in End of the Rainbow. Other theatre: How to Succeed… (Hedy LaRue), South Pacific (Nellie), Carousel (Julie), Disney's Beauty and the Beast (Belle), Man of La Mancha (Aldonza), Jekyll and Hyde (Lucy), The Secret Garden (Martha), Much Ado About Nothing (Beatrice), Macbeth (Lady Macbeth), Richard III (Lady Anne), The Merry Wives of Windsor (Mistress Quickly), The Game's Afoot (Daria), The 39 Steps (Woman), The Philadelphia Story (Tracy), The Great Gatsby (Myrtle), and The Wizard of Oz (Dorothy). Comedy: Second City Hollywood. Television: Chicago PD. Angela and husband Michael Ingersoll produce the Artists Lounge Live concert series. Concerts: Judy Garland: Come Rain Or Come Shine, I Gotta Right to Sing the Blues, My Baby Just Cares for Me, The 12 Dames of Christmas, as well as partnering with Garland's son for Joey Luft and Angela Ingersoll Celebrate Judy Garland. angelaingersoll.com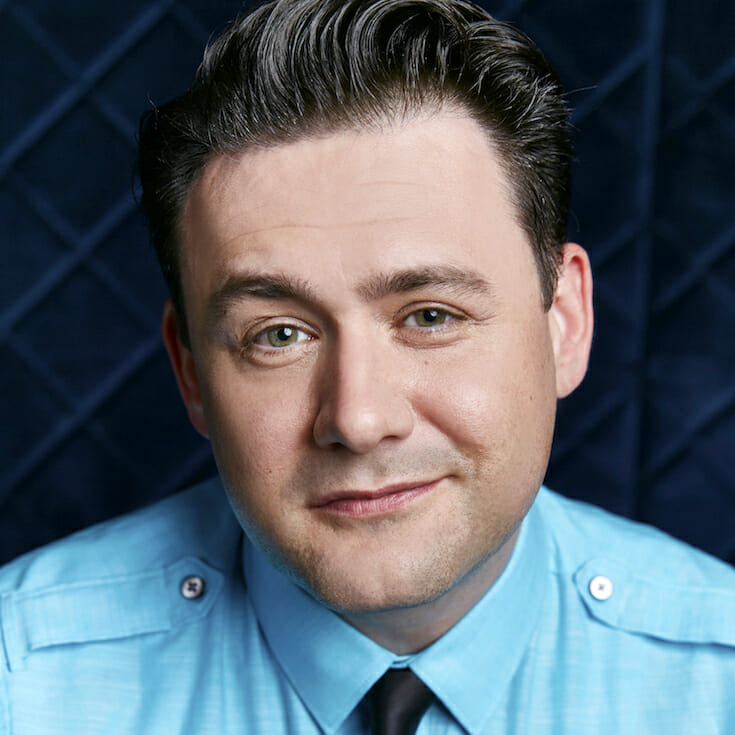 MICHAEL INGERSOLL
The Chicago Sun-Times declares, "He's got star written all over him." Michael Ingersoll is a nationally touring recording artist and producer of the Artists Lounge Live concert series. He currently serves as Executive Producer of a new concert for public television featuring Angela Ingersoll singing the music of Judy Garland, to air in 2018. Michael co- produced and starred in numerous PBS concert specials for the group he founded, retro-rock sensation Under the Streetlamp. Streetlamp's concert specials air in hundreds of millions of homes nationwide. Ingersoll is also known for starring in over 1300 performances as Nick Massi in Jersey Boys (Chicago, San Francisco, and Los Angeles). Other theatre: Award Nominations for Of Mice and Men, Floyd Collins, Bat Boy: The Musical, and tick, tick... BOOM!. Other television: Access Hollywood, Extra! (Streetlamp); The Oprah Winfrey Show, The Tonight Show, PBS' Capitol Fourth, The Primetime Emmy Awards (Jersey Boys); The Beast, and Chicago Fire. Film: Walk the Line. Recordings: Under the Streetlamp, Rockin' Round the Clock, Let the Good Times Roll, Everyday's a Holiday (Streetlamp); and Seasons Greetings: A Jersey Boys Christmas. Concerts: Try a Little Tenderness, My Baby Just Cares For Me. michaelingersoll.com